Kyleh2486
Adventurer
Location:

Kansas City, MO

Join Date:

4/16/2018

Posts:

2,376

Member Details
This post has potentially manipulated dice roll results.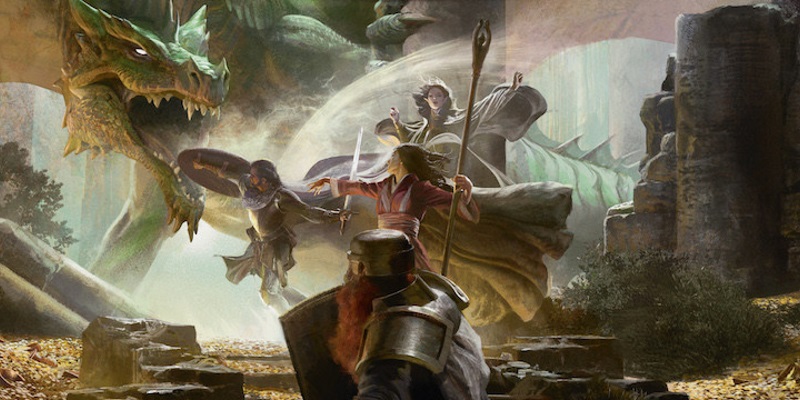 ----------------------- UTILITY POST -----------------------
Rules:
This game is limited to new players only. There are not enough games open for new players to get in on. All content will be used from the Players Handbook (PHB) to allow access to most of the material available for free.

Read through all of this. I want to make sure this is going to work for you as well as myself and the others in the party. I've had a few people drop out from another game of mine. It sucks. Please be committed. I know exigent circumstances do occur and understand, but I would like to have a group that can remain together for the duration of the adventure.

Selections will be made from backstorys and party survival optimization.

This adventure will follow the printed adventure to begin with, but may stray off the rails.
About me:
I'm Kyle. Only had real experience in 5e games here in PbP games. Newer DM here ready to bring others into the D&D universe. I will be running a Lost Mines of Phandelver game. I can post at least once a day for the most part, but they will be lengthy so there should be plenty to work off of.
If you're new to this, don't worry, I am as well. I want to keep the group small and manageable.
-------------------------------------------------------------------------------------
Synopsis:
In the city of Neverwinter, a dwarf named Gundren Rockseeker asked you to bring a wagonload of provisions to the rough-and-tumble settlement of Phandalin, a couple of days' travel southeast of the city. Gundren was clearly excited and more than a little secretive about his reasons for the trip, saying only that he and his brothers had found "something big," and that he'd pay you ten gold pieces each for escorting his supplies safely to Barthen's Provisions, a trading post in Phandalin. He then set out ahead of you on horseback, along with a warrior escort named Sildar Hallwinter, claiming he needed to arrive early to "take care of business."
The story will begin on the trail with the players en route to Phandalin.
Game type:
5e game! PbP game posting at least once a day. Casual game folks! We all have lives. I enjoy roleplay and I want this to be a roleplay heavy game, so feel free to roleplay with one another between my posts. I tend to like detailed posters. One-liners tend to hem up the game quite a bit. And please please please use proper English.
This game features adults, using adult language. You have been warned. (Acquisitions Incorporated reference)
-------------------------------------------------------------------------------------
Character creation:
Starting at level 1. Characters will be races from the PHB only for the sake of keeping things simple with standard array or point buy, so no min/max stats, with starting equipment. If you want a back story go crazy. I will try to add them into the story somehow if possible. Attach a pic to your PC as well, please. Looking for 4, possibly 5 players.
Again, this is intended to be roleplay heavy in proper English.
Apply by posting your character here. Include the following:
Character name
Class
Race
Background (Impress with that background (roleplay heavy game))
Character description
Give me a line about your experience as well. Just curious about your experience level.
-------------------------------------------------------------------------------------
Layout for posting in the forum:
Character name in the first line (Easier for me to follow who's who)
Example: Jeff the wizard
Example: I run toward the gap in the floor and jump. This isn't going to be good. Just prior to jumping, I cast light on my quarterstaff. As I land, I take a swing at the guard with my quarterstaff. "You killed my father!"
Any skills, attacks and damage rolls (rolls need to be done in the forum with the dice roller) in the third line like so:
Example: Attack: 18 Damage: 8 type of damage
Example: Stealth: 15
Link to dice roller walkthrough: https://www.dndbeyond.com/forums/d-d-beyond-general/play-by-post/2985-rolling-dice
OOC (out of character) text needs to be specified separately in the last line if you have any. Relevant text to the game only.
Example: OOC - How far away am I to the door? Is the guard bloodied?
I understand all the tool tips and such won't always happen. I post a lot from my phone and this type of format shouldn't be too hard to follow.
-------------------------------------------------------------------------------------
XP or milestone?
Milestone. I am not a fan of running games with XP leveling up. This gives the idea to players that killing everyone and everything will level up your character faster. I do not want to run a game filled with murder hobos killing everything in their wake and not roleplaying any other solutions. I will level your character when appropriate. Killing extra will not get you there any faster.
Initiative and combat:
Once we enter initiative, I will most likely roll for everyone if you haven't beat me to it. This is to save time so we do not have to wait for someone to post a single roll to begin and proceed. The initiative will be listed in, most likely, its own post for easy access. I don't want to tie the game up waiting for combat so if you take a while, I will post your action with your best interest in mind.
Loot and treasure:
Coins will be decided evenly to avoid a player vs player fight. The remainder goes to the Gods! You're part of a team with some common goal, so act the part. Treasure items will be worked out between the party members. That is for you all to roleplay through and decide upon. No fighting like children. Looting will only find you coins and worthy items. I don't want to have to deal with someone carrying 17 goblin swords to sell later for a grand total of 2 gp. I'll give you guys coin and items so don't worry about that.
Help action:
If you plan on "helping" another player to gain advantage, I won't grant it if you simply say "I help." I need to know how you are going to help this other person in this action. "I will help pull the door closed." "I will help push this item out of the way." Those would be fine to use the help action. Some actions I cannot bring myself to grant advantage for helping, such as lockpicking. How is a second person going to "help" you pick a lock?
Holding items:
I do pay attention to this. Two-handed weapons require two hands, so no shield. Want to hold two weapons? They both must be light. (Obviously, feats overrule this.)
Shields costs 1 action in combat to don or doff a shield (PHP 146). If you are a shield fighter, equip or unequip your shield on your sheet so I get an accurate representation of your AC.
Changing weapons? Rules as written (RAW) states you can stow your weapon as your one free action at the end of your turn, then draw a different weapon as your one free action at the start of your next turn.
Rule disagreements:
I don't mind a discussion about rules (I'm still learning), but at the end of the day, I'm the DM (not trying to sound like a dick). The discussion will take place in the chat thread.
My only pet peeve:
Do not run my game and do not run another player's character. We are here to have fun. This is not a war game where combat optimization is key, this is a roleplaying game. Taking over a game ruins the experience for everyone else involved. Don't be that player please or a rogue tarrasque will take care of your character for me.
Our player characters:
Kimberly Stormwell (holyblades777) - human sorcerer
Renvalm Hellhelm (happy_potato) - human barbarian
Gramgran (thatoneguyyouknow) - wood elf cleric
Darthos Tay (goldenacorn) - tiefling wizard
Yuri Naïlo (moistbooks) - half elf fighter
Morpetor Aloro (legoslost) - wood elf wizard
Vah'Lhorn (PolarBearSoup) - tiefling warlock
NPC list:
Gundren Rockseeker - patron of your trip to Phandalin
Sildar Hallwinter - bodyguard of Gundren
-
-
Maps:
TBD:
----- DM STUFF -----
Initiative:
Initiative:
DM - [roll]1d20+2[/roll ]
Grangram - [roll]1d20+2[/roll ]
Kim - [roll]1d20-1[/roll ]
Vah'Lhorn- [roll]1d20+1[/roll ]
Yuri - [roll]1d20[/roll ]
HP rolls:
Enemy 1 - HP

12

AC 14
Enemy 2 - HP

18

AC 14
Enemy 3 - HP

14

AC 14
Enemy 4 - HP

16

AC 14
Enemy 5 - HP

18

AC 14
TBD: