Imoxator
Immaculate
Location:

Highland, Utah

Join Date:

3/20/2017

Posts:

858

Member Details
Kaladesh: Silence in Peema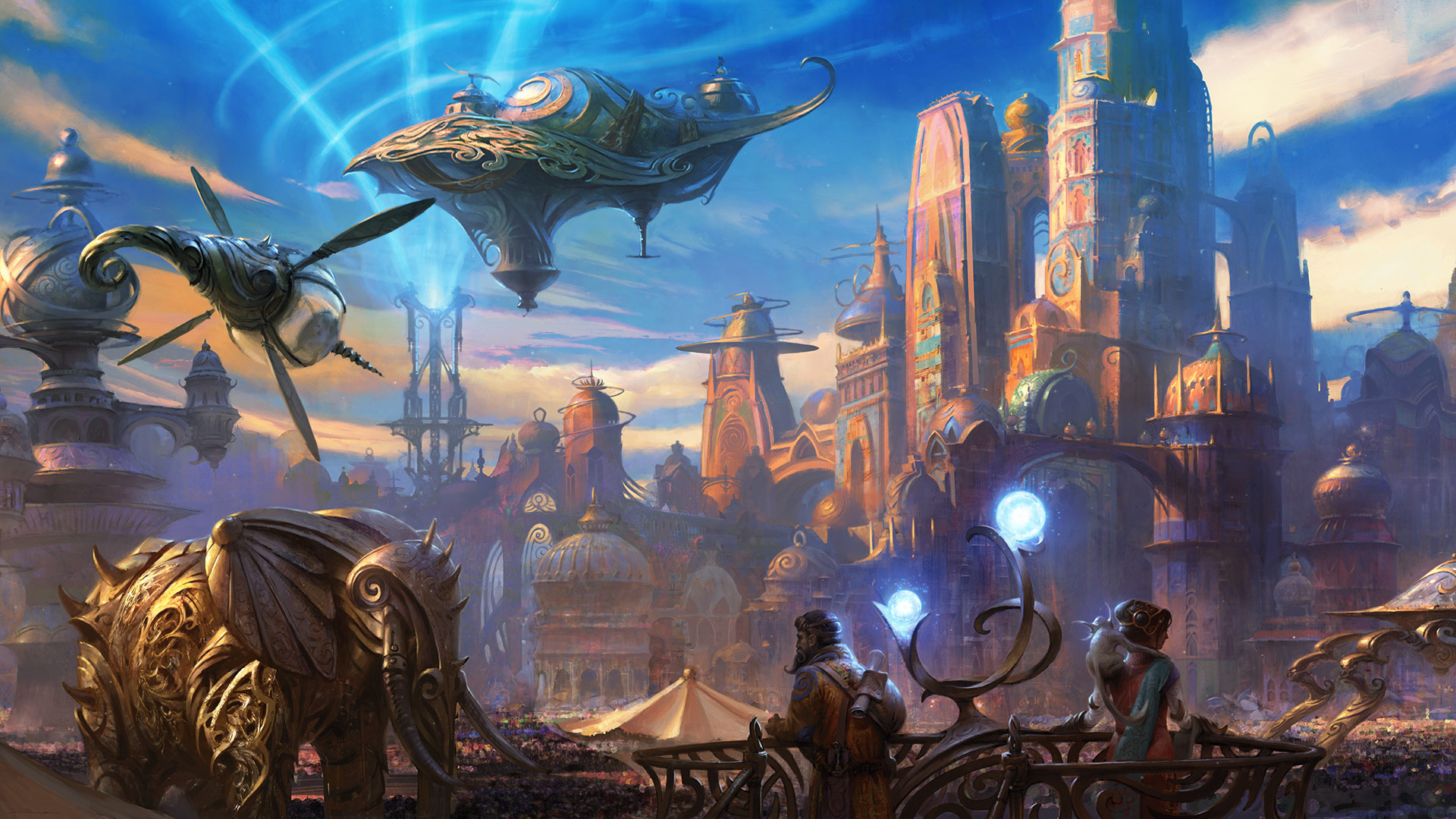 Things I'll accept:
If there is anything you feel is appropriate for the setting, either amongst UA or any of the books (Volo's, EE, SCAG, etc.), that you would like to play, please PM me. If you have questions about anything, please PM me. I'm more than willing to work with players.
I do ask that each player be familiar with the Kaladesh setting. No knowledge is needed of Magic the Gathering and the other planes of existence. Boundless questions are going to appear as we move forward with the adventure, in terms of what is and what isn't in comparison to the D&D setting. We'll cross those bridges when we get there.
Links to Inspire and Help Understand Kaladesh:
Plot Hook/Setting:
This adventure takes place about ten years before the events of Kaladesh and Aether Revolt begin. Fifty years prior, the ability to harness aether was discovered, plunging the plane of Kaladesh into an inventor's renaissance, as machines were theorized, constructed, and given life by the power of aether. The governing body of Kaladesh, the Consulate, saw its potential and quickly capitalized on this discovery, designing distribution methods and laws to ensure everyone would have "mutual" access to aether. Some saw the Consulate's actions differently, believing they infringed on the people's right by controlling the flow of aether to the populus. Known collectively as the Renegades, they seek to undermine the Consulate's iron grip on aether. You, adventurers, are members of the Renegades. You are currently on a mission aboard a renegade aethership from Ghirapur, being sent to Peema, a vast forest several hundred kilometers northwest of Ghirapur. There, one of the Renegade's hidden aether-collecting sites has gone dark, and the continual aether shipments needed to power the Renegade's various machines have ceased. You are tasked to discovering why the site has gone dark, and resolve any issues to make sure the flow of aether returns unhindered.
Aether:
Aether is something unique, with no prescribed rules for how it operates. For this adventure, I'm going to have aether be an actual resource you can use to amplify actions you take, as well as have it be necessary to power "magical" items you come across or create. A dose of aether can be taken as a bonus action to give you advantage on any one dice roll you make for the next minute. This includes attack rolls, damage rolls, saving throws, skill checks, etc. Note, for damage rolls, it applies to one of the dice. So if you swing with a greatsword and hit your opponent, you would essentially roll 3d6 and take the highest two dice. If blasting a group of enemies with Burning Hands, you would roll 4d6 and take the highest three. EDIT: Aether is a dangerous substance, and can have harmful effects if straight ingested. When taken without an aether infuser, a DC 10 CON save is needed to avoid the aether's effects (2d6 poison damage). An aether infuser is an uncommon magic item that you wear on your wrist. It allows the user to infuse aether safely. It is also illegal in the Consulate's eyes, and can only be purchased on the black market for 150 gold pieces. Aetherborn, due to being made of aether, are immune to this effect. A dose of aether costs 50 gold pieces, and can only be purchased via black market or through the Renegades, who are forced to sell bits of it to help fund their ongoing battle versus the Consolate.

Aether-Infused Items: "The citizens of the Consulate enjoy what is perhaps the most exciting and inspiring period in Kaladesh's history. In the sixty years since Avaati Vya discovered the process of aether refinement, aether has transformed virtually all day-to-day activities and reshaped the way people think about their lives. Over the course of the last half century, hundreds of thousands of new devices, machines, vehicles, constructs, and even weapons have sprung from the minds of talented inventors—all powered by the wonders of aether."

Magic items, don't technically exist. Rather, items can be infused with aether to produce spectacular effects. +1 Weapons and Armor will exist, but +2/+3 items do not. Rather, you can overload +1 items with aether to produce effects mirroring +2/+3 items for a short amount of time. As a bonus action, you can infuse a +1 weapon with one dose of aether, giving your next attack an additional +1 bonus, up to maximum of +2. If you infuse it with three doses of aether, you give your next attack an additional +2 bonus, up to a maximum of +3. +1 armor can be infused with aether as well. By infusing two doses of aether, +1 armor grants disadvantage on the next attack roll made against you.

Ex. Baliim wields two +1 Scimitars in his effort to cut down the Consulate constructs. Facing a particularly large Consulate construct, he uses two doses, one on each scimitar, before going into battle several minutes later, to make his scimitars +2 for one attack each. The doses last until discharged, and he is able to surprise the construct, gaining advantage on his attack and hitting with both strikes. The construct though soon overwhelms him, and he is forced to retreat. Able to escape, he infuses his +1 scimitars with three doses of aether each, the last of his reserve, to make his scimitars +3 for one attack each. He has to take down this construct if their forces are able to secure a stash of aether stolen by the Consulate. Able to surprise the construct, he lands both attacks, severing the constructs mainframe and bringing it crashing to the floor.

While it would be neat to have other magical items see a use in aether, I want to adhere to the 5E principles of simplicity and ease-of-use. As such, other magic items will work normally, with sufficient aether storage to last indefinitely. Items that use charges however will require doses of aether to power. One charge equals one dose of aether.

Pricing for Aether-Infused "Magic" Items:

Common - Weapons: NA; Non-weapons: 75

Uncommon - Weapons: 750; Non-weapons: 375

Rare - Weapons: 7500; Non-weapons: 3750

Very Rare - Weapons: 75000; Non-weapons: 37500

Legendary - Weapons: 750000; Non-weapons: 375000

When crafting an aether-infused item, spellcasting isn't necessary. You must simply meet the minimal character level (3rd=Common/Uncommon; 6th=Rare; 11th=Very Rare; 17th=Legendary). To make aether-infused items quickly and without fail, you need a schematic plan. Such will be available for purchase at a tenth of the cost of said magic item. When using a schematic plan, you can craft at a rate of 100 gp/8 hous, instead of the 25 gp/8 hours, and do not need to make an Arcana check at the end of each 8-hour period. If crafting without a schematic plan, you craft at a rate of 25 gp/hours, and you must make an Arcana check at the end of each 8-hour period, as follows: DC 10 for a common or uncommon item, DC 15 for a rare or very rare item, or DC 20 for a legendary item. On a failed check, the character still spends the 25 gp for that day's work, but that day does not count toward completing the item.
Other points of interest. We'll be using Discord for rolls and OOC chatter. I haven't decided the size of the party I'm looking for (I'm thinking at least five players, to keep things lively), but you'll be starting at level three. Standard array or point buy. Give yourselves an extra 150 gp, to simulate your characters being fairly seasoned.
While I'm not in favor of evil-aligned characters, being rebels, it can make sense. If you do want to make an evil character, please make sure that they'll play nicely with your fellow party members. I'm fine with arguments, but I won't allow party members to start willingly kill each other. Likewise, don't feel restricted to classes no one else has picked. If three people want to play artificers, then three people can pick artificers! I love roleplaying, and you can see the PbPs I'm currently in for evidence of that from my characters. Because I don't want to rush character creation and development, I'm going to give this about a week for players to submit their character ideas. The more fleshed out, the more likely I'm going to pick your character. When submitting your character, please put all of their information in a spoiler box, like so:
Character Name: A Brief Description
Here is where all of your character information will go.
Something like this is ideal, and would be heavily considered:
Chaotic Good Forest Gnome Rogue (Arcane Trickster) [Rogue (AT)/Wizard (BS)/Fighter (BM)]
Portrait:
Background: Urban Bounty Hunter
Ear to the Ground

- You are in frequent contact with people in the segment of society that your chosen quarries move through. These people might be associated with the criminal underworld, the rough-and-tumble folk of the streets, or members of high society. This connection comes in the form of a contact in any city you visit, a person who provides information about the people and places of the local area.

Personality Traits:

I would rather make a new friend than a new enemy. The best way to get me to do something is to tell me I can't do it.

Ideal:

Redemption. There's a spark of good in everyone.

Bond:

I'm guilty of a terrible crime. I hope I can redeem myself for it.

Flaw:

If there's a plan, I'll forget it. If I don't forget it, I'll ignore it.
STR: 8 (-1) DEX: 16 (+3) CON: 13 (+1) INT: 16 (+3) WIS: 12 (+1) CHA: 10 (+0) (Saves: DEX & INT)
Armor Class: 15 (10+DEX+Studded Leather Armor)
HP: 9/9
Skills: Acrobatics (+3), Insight (+3), Investigation (+3), Perception (+5), Sleight of Hand (+5), Stealth (+7)
Senses: Darkvision 60 ft.; Proficiency: Rogue, Viol, Dice; Languages: Common, Gnome, Thieves' Cant
Combat:
Rapier

- Melee; +5 to hit; 1d8+3 piercing damage

Dagger

- Melee/Ranged (20/60 ft.); +5 to hit; 1d4+3 piercing damage
Traits:
Gnome Cunning

- You have advantage on Intelligence, Wisdom, and Charisma saving throws against magic.

Expertise

- At 1st level, choose two of your skill proficiencies, or one of your skill proficiencies and your proficiency with thieves' tools. Your proficiency bonus is doubled for any ability check you make that uses either of the chosen proficiencies. At 6th level, you can choose two more of your proficiencies (in skills or with thieves' tools) to gain this benefit.

Thieves' Cant

- During your rogue training you learned thieves' cant, a secret mix of dialect, jargon, and code that allows you to hide messages in seemingly normal conversation. Only another creature that knows thieves' cant understands such messages. It takes four times longer to convey such a message than it does to speak the same idea plainly. In addition, you understand a set of secret signs and symbols used to convey short, simple messages, such as whether an area is dangerous or the territory of a thieves' guild, whether loot is nearby, or whether the people in an area are easy marks or will provide a safe house for thieves on the run.

Speak with Small Beasts

- Through sounds and gestures, you can communicate simple ideas with Small or smaller beasts. Forest gnomes love animals and often keep squirrels, badgers, rabbits, moles, woodpeckers, and other creatures as beloved pets.
Equipment:
14 gp, Thieves' Tools, 50 ft. silk rope w/ grappling hook, an explorer's pack (a backpack, a bedroll, a mess kit, a tinderbox, 10 torches, 10 days of rations, and a waterskin), a viol
SPELLS PREPARED:
BIO:
Pettilaen has always been a city-folk. He grew up in Baldur's Gate to parents who were farmers. They worked hard to provide a decent life for him and his two siblings, who in return worked hard on the farm. He always understood the value of hard work. But that didn't stop his love for exploration and pulling pranks on his siblings. He was notorious for those two things, and often would get lost in the nearby woods.
As he grew older, the business of the city appealed to him. He saw the city as a massive place to explore, and as such took up the job as a courier when he was in his teens, running about from nobleman to business to city official delivering messages. It was in this business that he was approached by a group of thieves, who offered him a way to make some extra cash, in exchange for them copying down the letters he delivered. This took him down a dark road for several years of his life, where he worked closely with this group of thieves, learning the tools of the trade on how to move about undetected, pick the pockets of wealthy merchants, break into houses and where to strike someone to hurt them the most.
A few years into this, he began to see what he was becoming, but felt there was no way to get out now. He was in too deep with these thieves, and had become one of them. They were the closest thing to a family he had, since he'd estranged himself from his parents and siblings. It wasn't until he was caught by a priest of Illmater until he realized the atoning he needed to do. Unable to sell out his brothers and sisters in the thieves' guild, he instead left and travelled back home to his family, broken-hearted. They gave him a warm reception, happen to have their son and brother back again. His heart though yearned for exploration, and he took off after staying with his family for a time, wanting to make his mark on the world.
One last note: I will commit to being on everyday at least once. While I would sincerely hope that you are able to as well, I understand that life gets busy. If you are gone for three days without prior notification, I will have to remove you from the group. I've seen how long encounters can take, and I will have at least one round finished per day. If you have not posted what your character is doing for that round of combat by the end of the day, then I will discuss with the players online what we think your character's most appropriate course of action would be, and then execute it. This is to help keep the gameplay flowing. Also, Initiative will be more of a first-come-first serve. I'll ask for an initiative roll for the party, and then compare that to the initiative roll from what you are encountering. So the party goes, and then the encounter, or vice-versa. This way we're not waiting for someone who won't be on for another 6 hours, and you're available right now to do your turn.
I'm bound to have missed something, so again: if you have any questions, feel free to PM me! Once the party is organized, chosen, and settled, we'll discuss the finer details.
*** Parts written in red are edits/updates to what I have in mind***