Fenris_Worldsbane
Dungeon Master
Location:

PST

Join Date:

1/27/2018

Posts:

2,227

Member Details
Daggerford, the night of Highharvestide.
A day of feasting and giving thanks.

Bells, cheers, and whoops ring out across the town square as the largest burnt orange squash you have ever seen lights up from the inside to reveal a wickedly carved toothy grin. The townsfolk – a mix of human, dwarves, and halflings – all raise their glasses and toast loudly to another bountiful harvest granted to them by the glorious Chauntea.
Smoke spreads across the square from various stew pots and grill stands. The smell of spiced meats, cinnamon, vanilla, and sugar fills your senses. You watch as a pair of dwarves drag another barrel of dark ale out from a snickleway towards a table occupied by a rather tall dwarf and a very stout halfling who are clearly going head to head in some sort of drinking match. Three halflings walk about pouring cups of some sort of crisp looking cider for a growing crowd of onlookers.
A troupe of children run a muck through the square dressed as devils, demons, and other creatures with large curly horns. They set off firecrackers, tap adults on their shoulders, and pull other little pranks on each other, while demanding treats from adults. The whole town seems to be bursting at the seams – ready for a night of celebration, debauchery, and maybej just a bit of sin.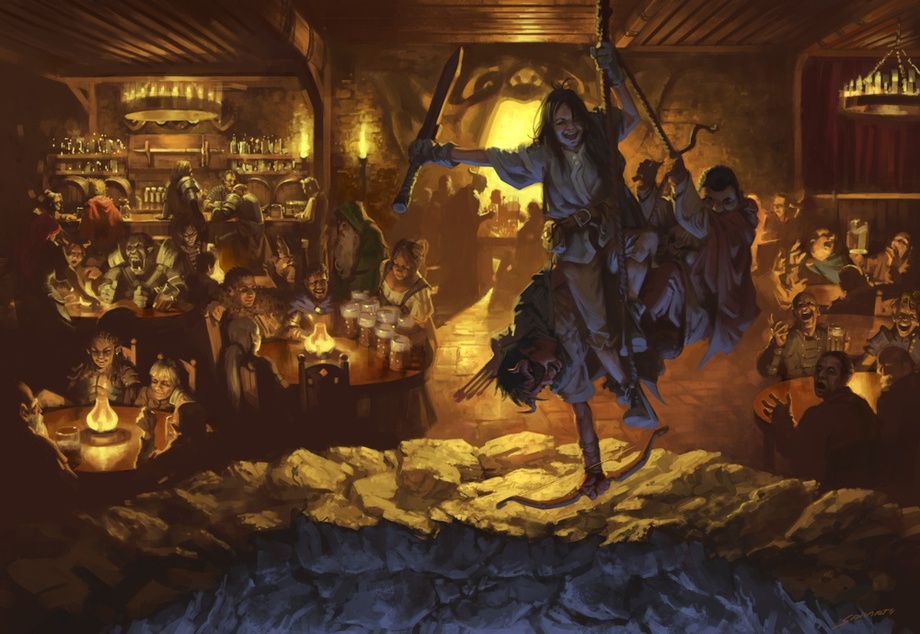 After awhile you begin to feel out of sorts among the colorful outfits and party-goers, but you spot what appears to be other outsiders like yourself spread randomly among the crowd. They too look on with interest at the growing spectacle. You stand for a moment longer, observing the vibrant scene, then get the sudden urge to seek out the other outsiders among the crowd. They seem to all gravitate towards an open table on the fringes of the celebration, so you too gravitate towards them....
---
Task: Describe what your character looks like, give a little background, and introduce yourselves to one another in character. Feel free to interact with the environment as well if you'd like. The game will officially kick off Saturday, or once everyone has gotten a chance to post an introduction.
~Private. Please do not post in this thread unless you're part of the campaign.~