Kyleh2486
Adventurer
Location:

Kansas City, MO

Join Date:

4/16/2018

Posts:

2,376

Member Details
This post has potentially manipulated dice roll results.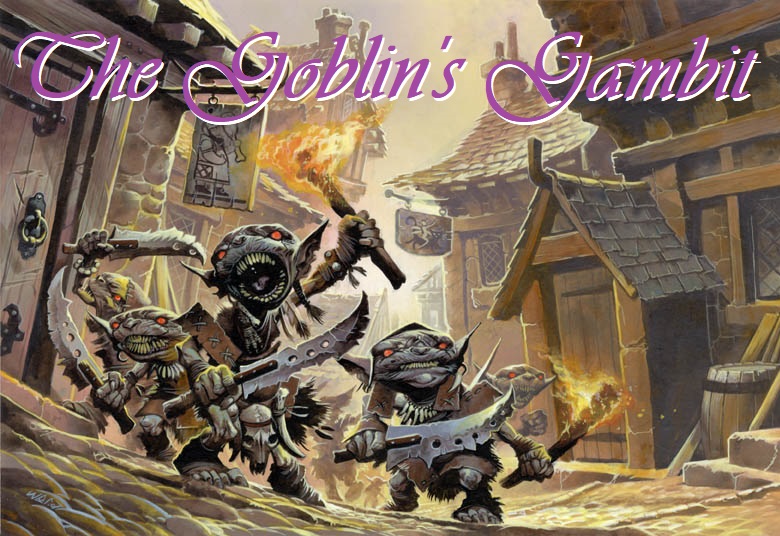 ----------------------- UTILITY POST -----------------------
Rules:
GAME/POSTING/CHARACTER CREATION/RULES
-------------------------------------------------------------------------
Synopsis:
This is a short one shot, maybe longer, if everyone is enjoying themselves. Everyone in the party will be the goblin race from Volo's. I have a homebrew copy of the race that I can share after players have been picked for character creation. Players will start at level 3. All player must be at least one level of rogue. This game will take place in Waterdeep, a place where goblins are not welcome. Your group will be employed by a wizard to retrieve certain magical items throughout the city, al la heist movie. Some of these stolen magic items may be used during other heists. Looking for 4 or 5 players to play this PBP game.
Waterdeep, also known as the City of Splendors or the Crown in the North, is the most important and influential city in the North and perhaps in all Faerûn. Waterdeep was named for its outstanding natural deep-water harbor, and the city that grew up at this site became the commercial crossroads of the northern Realms. More than 100,000 people made their home in Waterdeep.
The City Watch was the local police force and in addition to capturing criminals, its members settled petty disputes, gave directions, summoned medical and priestly aid, generally performing duties that promoted the idea that Waterdeep was a city open to all who knew how to behave themselves. The city watch will take action when necessary. The more you steal, the harder the city guard will be on the lookout for the criminals (you all).
-------------------------------------------------------------------------
Game type:
5e game! PbP game posting at least once a day. Casual game folks! We all have lives. I enjoy roleplay and I want this to be a roleplay heavy game, so feel free to roleplay with one another between my posts. I tend to like detailed posters. One-liners tend to hem up the game quite a bit. And please please please use proper English.
This game features adults, using adult language. You have been warned. (Acquisitions Inc©)
-------------------------------------------------------------------------
About me:
I'm Kyle, I'll be your illustrious and benevolent dungeon master during our adventure here. My only real experience is in D&D 5e. I am a newer DM here ready to bring others into the D&D universe. I will be running a heist-style game. I can post at least once a day for the most part, but they will be lengthy so there should be plenty to work off of.
If you're new to this, don't worry, I am as well. I want to keep the group small and manageable.
-------------------------------------------------------------------------
Character creation:
Players will start as a level 3 goblin with standard array or point buy. All players must be at least one level of rogue. You can multiclass or go full rogue. I am looking for a nice mix of players.
Ability Score Increase: Your Dexterity score increases by 2, and your Constitution score increases by 1.
Age: Goblins reach adulthood at age 8 and live up to 60 years.
Alignment: Goblins are typically neutral evil, as they care only for their own needs. A few goblins might tend toward good or neutrality, but only rarely.
Size: Goblins are between 3 and 4 feet tall and weigh between 40 and 80 pounds. Your size is Small.
Speed: Your base walking speed is 30 feet.
Darkvision: You can see in dim light within 60 feet of you as if it were bright light, and in darkness as if it were dim light. You can't discern color in darkness, only shades of gray.
Fury of the Small: When you damage a creature with an attack or a spell and the creature's size is larger than yours, you can cause the attack or spell to deal extra damage to the creature. The extra damage equals your level. Once you use this trait, you can't use it again until you finish a short or long rest.
Nimble Escape: You can take the Disengage or Hide action as a bonus action on each of your turns.
Languages: You can speak, read, and write Common and Goblin.
Apply by posting your character here. Include the following:
Character name
Class
Race
Background
Backstory (Impress with that backstory (roleplay heavy game)
Character description
Give me a line about your experience as well. Just curious about your experience level.
Again, this is intended to be roleplay heavy in proper English.
DO NOT WORRY ABOUT MAKING A CHARACTER SHEET AT THIS POINT. WE WILL DO THIS ONCE PLAYERS ARE SELECTED AND I CAN CONTENT SHARE THE RACE
-------------------------------------------------------------------------
Layout for posting in the forum:
Character name in the first line (Easier for me to follow who's who)
Example: Jeff the wizard
Example: I run toward the gap in the floor and jump. This isn't going to be good. Just prior to jumping, I cast light on my quarterstaff. As I land, I take a swing at the guard with my quarterstaff. "You killed my father!"
Any skills, attacks and damage rolls (rolls need to be done in the forum with the dice roller) in the third line like so:
Example: Attack: 8 Damage: 7 type of damage
Example: Stealth: 10
Link to dice roller walkthrough: https://www.dndbeyond.com/forums/d-d-beyond-general/play-by-post/2985-rolling-dice
OOC (out of character) text needs to be specified separately in the last line if you have any. Relevant text to the game only.
Example: OOC - How far away am I to the door? Is the guard bloodied?
I understand all the tool tips and such won't always happen. I post a lot from my phone and this type of format shouldn't be too hard to follow.
-------------------------------------------------------------------------
Other rules:
XP or milestone?
Milestone. I am not a fan of running games with XP leveling up. This gives the idea to players that killing everyone and everything will level up your character faster. I do not want to run a game filled with murder hobos killing everything in their wake and not roleplaying any other solutions. I will level your character when appropriate. Killing extra will not get you there any faster. I am not sure yet if you will be leveling up during this or not. Depends how "wowed" I am by your antics.
Initiative and combat:
Once we enter initiative, I will roll for everyone. This is to save time so we do not have to wait for someone to post a single roll to begin and proceed. The initiative will be listed in, most likely, its own post for easy access. I don't want to tie the game up waiting for combat so if you take a while, I will post your action with your best interest in mind.
Loot and treasure:
Coins will be decided evenly to avoid a player vs player fight. The remainder goes to the Gods! You're part of a team with some common goal, so act the part. Treasure items will be worked out between the party members. That is for you all to roleplay through and decide upon. No fighting like children. Looting will only find you coins and worthy items. I don't want to have to deal with someone carrying 17 goblin swords to sell later for a grand total of 2 gp. I'll give you guys coin and items so don't worry about that.
Help action:
If you plan on "helping" another player to gain advantage, I won't grant it if you simply say "I help." I need to know how you are going to help this other person in this action. "I will help pull the door closed." "I will help push this item out of the way." Those would be fine to use the help action. Some actions I cannot bring myself to grant advantage for helping, such as lockpicking. How is a second person going to "help" you pick a lock?
Rule disagreements:
I don't mind a discussion about rules (I'm still learning as well), but at the end of the day, I'm the DM (not trying to sound like a dick). The discussion will take place in the chat thread.
My only pet peeve:
Do not run my game and do not run another player's character. We are here to have fun. This is not a war game where combat optimization is key, this is a roleplaying game. Taking over a game ruins the experience for everyone else involved. Don't be that player please or a rogue tarrasque will take care of your character for me.
Our player characters:
Gizzmo Getsum (Wakarusa) - Wizard (School of Tinkering)/Rogue
Jallmur the Great (tarrasque111) - Barbarian/Rogue
Skeekbad-who-sneaks-bad (abunny) - Druid (Circle of the Land)/Rogue
Tsux Bonethief (MrAlienLlama) - Ranger/Rogue
Wensa (cogema) - Rogue/Blood Hunter
NPC list:
Chadwick Gloomblast - Your patron and one of the most famous wizards in Faerun
Wadsworth - The Gloomblast family butler
Quinlan - A Gnome tinkerer, employed by Chad, in charge of "Q Branch"
-
-
Magic items still to collect:
- Deck of Many Things
If you use the deck, you must state how many cards you wish to blindly pull from the deck before you pull them. I will have you roll to see which card you get. I will only allow a reroll if you draw the donjon, void, the flames, skull and moon card and you, and only you, have an inspiration to burn. If you use a reroll, the card is removed from the deck is discarded, unless it is the wish card that reenters the deck. Other than that, you must live with the consequences. Most cards are single-use cards, but some reenter the deck after they are used.
Deck of Many Things - TBD
(1) The Fates: Reality's fabric unravels and spins anew, allowing you to avoid or erase one event as if it never happened. You can use the card's magic as soon as you draw the card or at any other time before you die.
(2) Balance: Your mind suffers a wrenching alteration, causing your Alignment to change. Lawful becomes chaotic, good becomes evil, and vice versa. If you are true neutral or unaligned, this card has no effect on you.
(3) Flames: A powerful devil becomes your enemy. The devil seeks your ruin and plagues your life, savoring your suffering before attempting to slay you. This enmity lasts until either you or the devil dies.
(4) Comet: If you single-handedly defeat the next hostile monster or group of Monsters you encounter, you gain Experience Points enough to gain one level. Otherwise, this card has no effect.
(5) Vizier: At any time you choose within one year of drawing this card, you can ask a question in meditation and mentally receive a truthful answer to that question. Besides information, the answer helps you solve a puzzling problem or another dilemma. In other words, the knowledge comes with Wisdom on how to apply it.
(6) Star: Increase one of your Ability Scores by 2. The score can exceed 20 but can't exceed 24.
(7) Donjon: You disappear and become entombed in a state of suspended animation in an extradimensional Sphere. Everything you were wearing and carrying stays behind in the space you occupied when you disappeared. You remain imprisoned until you are found and removed from the Sphere. You can't be located by any Divination magic, but a wish spell can reveal the location of your prison. You draw no more cards.
(8) Euryale: The card's medusa-like visage curses you. You take a -2 penalty on Saving Throws while cursed in this way. Only a god or the magic of The Fates card can end this curse.
(9) Idiot: Permanently reduce your Intelligence by 1d4 + 1 (to a minimum score of 1). You can draw one additional card beyond your declared draws.
(10) Key: A rare or rarer Magic Weapon with which you are proficient appears in your hands. The DM chooses the weapon.
(11) Rogue: A nonplayer character of the DM's choice becomes hostile toward you. The identity of your new enemy isn't known until the NPC or someone else reveals it. Nothing less than a wish spell or Divine Intervention can end the NPC's hostility toward you.
(12) Fool: You lose 10,000 XP, discard this card, and draw from the deck again, counting both draws as one of your declared draws. If losing that much XP would cause you to lose a level, you instead lose an amount that leaves you with just enough XP to keep your level.
(13) Gem: Twenty-five pieces of jewelry worth 2,000 gp each or fifty gems worth 1,000 gp each appear at your feet.
(14) Skull: You summon an avatar of death-a ghostly humanoid Skeleton clad in a tattered black robe and carrying a spectral scythe. It appears in a space of the DM's choice within 10 feet of you and attacks you, warning all others that you must win the battle alone. The avatar fights until you die or it drops to 0 Hit Points, whereupon it disappears. If anyone tries to help you, the helper summons its own avatar of death. A creature slain by an avatar of death can't be restored to life.
(15) Jester: You gain 10,000 XP, or you can draw two additional cards beyond your declared draws.
(16) Knight: You gain the service of a 4th-level Fighter who appears in a space you choose within 30 feet of you. The Fighter is of the same race as you and serves you loyally until death, believing the fates have drawn him or her to you. You control this character.
(17) Throne: You gain proficiency in the Persuasion skill, and you double your Proficiency Bonus on checks made with that skill. In addition, you gain rightful ownership of a small keep somewhere in the world. However, the keep is currently in the hands of Monsters, which you must clear out before you can claim the keep as. yours.
(18) Ruin: All forms of Wealth that you carry or own, other than Magic Items, are lost to you. Portable property vanishes. Businesses, buildings, and land you own are lost in a way that alters reality the least. Any documentation that proves you should own something lost to this card also disappears.
(19) The Void: This black card Spells Disaster. Your soul is drawn from your body and contained in an object in a place of the DM's choice. One or more powerful beings guard the place. While your soul is trapped in this way, your body is Incapacitated. A wish spell can't restore your soul, but the spell reveals the location of the object that holds it. You draw no more cards.
(20) Sun: You gain 50,000 XP, and a wondrous item (which the DM determines randomly) appears in your hands.
(21) Talons: Every magic item you wear or carry disintegrates. Artifacts in your possession aren't destroyed but do Vanish.
(22) Moon: You are granted the ability to cast the wish spell 1d3 times.

Cards can be used by the players, but drawing of the Moon card will lose the game.
- Extra magic items:
Magic items in your possession:
Maps: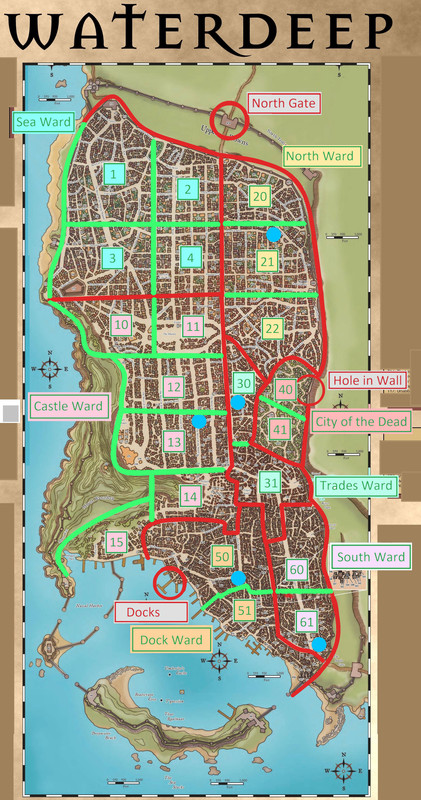 TBD:
----- DM STUFF -----
Initiative:
Initiative:
DM - [roll]1d20[/roll ]
Gizzmo Getsum - [roll]1d20+4[/roll ]
Jallmur the Great - [roll]1d20+5[/roll ]
Skeekbad-who-sneaks-bad - [roll]1d20+3[/roll ]
Wensa - [roll]1d20+3[/roll ]
TBD:
TBD: