Eisenfuchs
Theurgist
Location:

Graz

Join Date:

7/19/2017

Posts:

209

Member Details
The Tavern at the Crossroads is a welcome place of respite in the untamed wilds of the Immergrummel woods. The Innkeeper is a kind and unassuming Michtim* woman, called Thekla Leckertopf. Michtim cooking is renowned for rich flavors and a particular aptitude in the baking of muffin-like pastries called Bočične. At two feet height, Thekla is too small to serve all the bigger guests, and so she's always looking for Longlegs that might help out in her establishment.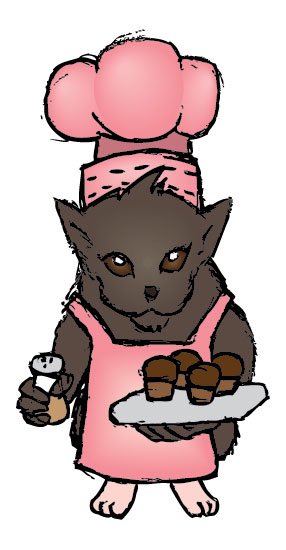 The door swings open and the patrons look at the door as strangers come in…
Information / Rules / Guides

Feel free to join the game, be kind to each other. (You don't need to ask for my permission to join the narrative, just read up a little, to understand what sort of situation currently is going on.)
If no staff is available, feel free to narrate some helping hand NPCs (like Mira, a human kitchen aid).
Try not to escalate into violence, and if you do, please give us enough time to respond. Due to timezones, I have different times of availability than most of you.
I'm the DM here, so if you have questions, just send me a Private Message!
Leave progression of time to me; however, you can move around the scene as much as you want.
It's collaborative and open. Don't worry, have fun.
Here's a thread you can ask questions in.

Scenery & Culture

The area around the Tavern is called Immergrummel woods (ever-grumble woods), it is a place that is connected to the feywilds in a similar way to how the Mist in Ravenloft works. Travelers that are in need of respite are sometimes magically brought to the Tavern, without them even realizing. The woods can be accessed from any pristine wilderness region in the Multiverse. If there's an untouched wood in your world, you can theoretically stumble into the Immergrummel woods.
The tavern is a wooden building that is built into a huge tree. It has several floors.
The food is really tasty and the smell of it is easy to perceive even from a distance. This place is known for pastries (called "Bocicne"), stews, good ale and tea. Also there are exotic drinks like cocoa and coffee, as well as fruit juices (called "Nectars").
The Tavern accepts payment besides coin. Trading resources, food and service is pretty common.
The general tavern area is in the ground floor. There is also a kitchen down here, and a bar.
The staff of the tavern is mostly Michtims (see below), but we also have Half-Elf and Human staff members.
Upstairs there is a huge common sleeping area that is free to use.
There are also luxury bed rooms with hot baths and offering privacy; these have to be "paid for" (but not necessarily with gold)
Outside the Tavern is a second big tree where the Michtims live upstairs. There are no ladders, so you have to be a good climber to get up to the rooms. These are all fairly small, since Michtims are just 2ft tall.
There's also a stable and well outside the Tavern. Animals are cared for by the staff, and some volunteers.

Michtims

If you want to know how Michtims look, check out this page (or my Avatar, really).

https://www.dndbeyond.com/characters/races/5774-michtim

Short OOC Notice: Playing a Michtim without a Subscription

You can play a Michtim in this Tavern thread. If you want to create the characters on DnDBeyond, send me a Private Message and I'll send you the Campaign link. You can create a Michtim for the Campaign then. Otherwise, if you create characters offline, you can also download the Michtim Race for D&D on DriveThruRPG for free, of course.