AndrewWest
Keeper
Location:

Atlanta

Join Date:

4/1/2017

Posts:

26

Member Details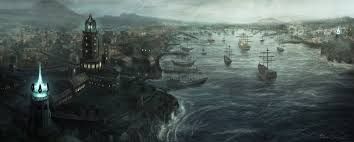 Aquatic Crusade: Part I (Bluegill)
In a time long ago....many eons have passed since the dawn of ages and the passing of time when giants roamed the earth, and beings such as dragons flew through the heavens and became distasteful of the giants presence. The All-Father, the god of the Giants had created everything in sizes so gargantuan that it resembled his likeness in many ways. Even creatures such as Storm Giants and Cloud Giants who ruled from the heavens and very depths of the bodies of water ruled the Ordning with an iron fist. Even a creature such as Kraken was large enough to rip apart coastal towns and destroy everything in it's wake when awoken to release it's furious rage. It was said that god's had to come down from the heavens just to wage battle against the colossal beast of furious anger.
Many underwater creatures waged war with the Kraken trying to dominate the beast, something had to be done to destroy the creature. If let alone the Kraken could rule of these bodies of water such as the Trackless Sea and the Sea of Swords; crushing everything in it's path. After time, generations have passed since a Kraken of considerable age and size had dominated the parts of the frozen North for sometime. As the Kraken fell to a deep slumber, Guardianship of the Kraken had been passed down from generation and in fact this time Bluegill was on watch when the beast began to stir anew.
Bubbles began to surface, movement started to happen and then an eye lid opens. Since the Kraken had fell asleep after so much time, it was time to feast and a new time to rule the ocean depths. Then the creature slammed several broken hulls from which it lay as the broken hulls fell apart quite easily. Projecting itself forward, it looked to be headed in the direction of the nearest coastal city....Luskan. Getting to close to the beast and you could get caught up in it's current. There was no time to waste, Luskan had to be alerted at once or else the city could perish in it's wake.
Lord for the Knight: Part II (Daggnabit Pwent)
Dagnabbit Pwent, grand-son of Thibbledorf Pwent's sister, he was named after the great General Dagnabbit Waybeard, he was born in Mithral Hall after the it's retaking from the Shadow Dragon Shimmergloon and the protection of it from the Mezoberranzan Drows, Dagnabbit Pwent dream was to join the Gutbuster Brigade with his Grandfather.
He was still in training when his grandfather, joining King Bruenor went to find and retake the fabled Delzun Kingdom of Gauntlgrym when he perished in the defense of the King and, even after death kept protecting his Kings Cairn.
When King Bruenor was returned by Moradin to the Delzun People and he marched to retake Gautlgrym, Dagnabbit was ready to march and fight in his namesake honor and his family honor.
After the retaking of Gautlgrym, Daggnabit participated in the rite of Kin and Kith and was accepted as an official member of the Gutbuster Brigade under the leadership of Fist and Fury, King's Bruenor Queens.
Know, his deployment was to protect and work, since he is a regular Mason, in the reconstruction of the Host Tower of the Arcanebrotherhood and, after it was completed he stayed in Luskan as a protector of the Dwarven citizens of Gautlgrym that stayed in the surface.
If there was one, there was only one within a room full of humans. You being the only Dwarf helping with the rebuilding of Hosttower, your masonry assisted the High Captain in numerous amounts of ways. To celebrate it's completion, the High Captain has invited you to a celebration of drinking, eating and being merry. This was an honor to good to pass up and word was that Kurth wanted to address you personally for your hard work and task you with something important for future endeavors. This seemed appealing so you are found among the cities workers and guards who effortlessly rebuilt the ruined tower to something breath taking to behold.
The feast begins with being seated in Kurth's Keep upon Blood Island. Blood Island was a central island protected by the High Captains pirates. But these pirates were Northlanders, not your atypical Calimshan swashbuckler more found south. The ceremony is in a posh palace which looked more like a foreboding castle among the deep blue sky. Candles and torches were lit in their respective sconce and dancers entertained with ceremonial and custom music of the North. Even though the women dancers seemed of a lesser profession, they were treated as equals in Luskan.
The feast begins, and succulent turkey and peasant bread is brought out to dine upon. With choice of drink, there was goblets of the finest dwarven ale from Mirabar. For some reason, Kurth traded with the Dwarves of Mirabar and not Mithral Hall. While you knew that, as of now, the pay and work helped you tolerate your heraldry and world from being out bidded by the competition. After most of the thank you and ceremonial proceedings had happened, Kurth takes the time to approach you. "Master Dwarf, I see the offer of food and drink did not stop you from attending. I have a proposition for you to hear if your willing to take this task on as new work. Shall I explain?"
Lost Heirloom: Mirabar Shield Part III (Cliste)
Cliste has a family but left home pretty early due to the family being quite poor. She was young enough to fall in with some urchins and wound up in a gang where she learned to be a burglar.
A gnome, Orryn Scheppen, caught her in the act of trying to steal a book from his library. It is a book he would have missed, but would not have had issues replacing. She affirmed the title caught her eye, so he made her prove she could read it. When she proved she could read, it was in common, he made a deal with her. He would teach her greater things if she in turn acquired items for him. This is where she learned gnomish and will work on learning magic abilities of the wizardly kind to become an arcane trickster (3rd level Roguish Archtype I'll use). ((This can be changed if the DM doesn't like this backstory to explain her bond of owing a generous benefactor and having to at least throw in something now and then for her to find. =D ))
Even though she has a list of burglaries a mile long and has some decent connections in Luskan, she good of heart. She believes even the worse person has a little spark of good that can be found. This gets her in trouble at times assuming she might find it, but she also usually can figure out when it is not worth her time. She likes giving food and trinkets to the street urchins in hopes it helps them last a little longer before they wind up in a gang.
There had been sometime of passing that a family heirloom had been stolen from your elven side of your heritage and you finally believe that you have tracked down this heirloom to a warehouse in the Mirabar Shield District. The leaning buildings of the night's sky were outlined against gray clouds and the fires blazing from torches lighting the walkway. As the cobblestone round was paved with a slick sheen, this place gave you the creeps. They said that the Northside was full of an operating Thieves Guild that taxed the commoners of this city.
The warehouse was self titled Mirabar Shield, the main headquarters for harbormasters and merchants who sold their wares travelling from Mirabar to Luskan then to the port coastal cities of the Sea of Swords and the Trackless Sea. After having watched the area for any passers, a few folk of Luskan walk past, but do not notice you in the least. The weathered aged wooden sign written in yellow letters above a dilapidated warehouse should contain the ring of three wishes. This ring would really help your luck. Imagining all that you could have or need and just happens to be inside, you are feeling elated and anxious all of the same time.
Tip toeing to the front door, you figure it's the best way in. Using your picks, the tumbler clicks and entry inside is quick and simple. The smell of dust causes you to sneeze a few times and even the coating is enough to show this building hadn't been accessed in awhile. That's until you hear something inside which sounds like the rummaging through notes. Looking down, you see footprints ahead that appear to be claw like. Some is here. Is it a worker working late or someone trying to steal something too. They just couldnt be here for the same thing you are right?
A Hidden Entrance: Part IV (Peren Lurkwood)
Peren Lurkwood was raised by the elves of the Lurkwood since they found him in a burned down Firbolg village – the lone survivor of a forest fire likely brought about by a red dragon. One day, soon after he reached adulthood, he was wondering around the Lurkwood not far out from the elven village and a mysterious event happened – no matter how far or in what direction he walked, he was still the same distance and direction from the village – he could see that to be true, as the village could be seen from his location. Suddenly, a hunter dropped gracefully from a tree branch, walked over to Peren and told him:
"Your spirit is now tied to Oberon, and Oberon bids you go to Luskan"
So, when the hunter vanished, and movement was working properly again, Peren returned to the village, collected all that he owned, and headed out for the place the hunter had told him too, remembering that the elves had told him it was outside the Lurkwood and to the east. And he travelled. The lands beyond the forest were strange – what happened to all the trees? What were the strange contraptions lead by the strange beasts who also carried elves whose ears lacked points? What were the strange beasts? And so, eventually he made it to Luskan, though he does not yet know what he was sent here to do.
Lurkwood....a place to call home and your former place of living. Travel to Luskan had been arduous at best. Traveling by night, you arrived at a crossing on Blackford Road. To the southwest, you would enter Mirabar. To the east is Luskan. There was something special calling you to Luskan. An omen sent by a messenger whom remained unknown. But that was the relationship between the few, the fey and your patron. After finally arriving, you stood several miles from the gates, to see this is a human settlement and of them being brash with sentiment and hardship of heart.
This may have left you feeling disconnected. Not apart of with no reason for having come here. Just a following from your patron to arrive in time to see the hardships for these people. Deciding to stay hidden, could disguise yourself to remain human like in appearance. An illusion that would protect you from onlookers and those that passed judgement. Entering, either secretively or well known, the gates are guarded and you blend in well with others, rubbing shoulder to shoulder with folk flocking in and out of the gates entrance and exit. Just another routine night as torches are dimly lit, the smell of unwashed bodies and the smell of urban living assault your sense of smell.
With nowhere to go, you finally separate from the pack, and find yourself roaming aimlessly among the North ward of Luskan. This place operates a thriving merchant guild as well as a thieves guild too. After sometime, you find yourself being watched. It seems that there are people who are eyeing you suspiciously. It is known that Northlanders are a suspicious lot. With nowhere to go, it seems that the gig of illusion maybe up. What do you do?
Bound by Choice: Part V (Kayn Talamari)
Kayn Talamari was born 4th heir to the Talamari household, and as such tradition dictated he was to be trained in the Hall of Warriors and Knighted under his family's crest. His destiny and future was determined before he was even born. Growing up, he embraced the training as any child of his status would. His master of weapons, Byron, taught him all he needed to know of weapon combat, and at the young age of eight Kayn was placing in tournaments amongst the other noble families. His studies in the Hall of Warriors taught him the strategic and ethical values of war. He devoted himself to Tempus fully at the age of sixteen after his dedication ceremony and earned the title Knight shortly after. As a Knight of Tempus wearing the Talamari colors, his destiny was fulfilled.
The Talamari family is a trading partner of the High Captains and is under their protection. The eldest son serves as a captain of The Emerald Spear and flies the Talamari colors while the second and third son have been groomed in the business of trade. Kayn has been promised into marriage with a woman of noble birth, Arial Samana. They've only met on a few occasions at parties hosted by either house, but he is dedicated to preserving the sanctity of their marriage until the time comes when the Hall of Warriors allows him to marry.
Lillith is a childhood friend of Kayn's. She was taken in at a young age as an orphan, and as Kayn grew older he took her into his employ. After Kayn was knighted he was given a squire to care for his arms and armor when not called to battle. Young Larik hails from House Samana and is Arial's cousin. As such, Kayn feels protective of him as he tries to teach him the lessons he has learned through his years in the Hall of Warriors. Upon Kayn's latest assignment he was issued an official Chronicler of Tempus. Connor is an elderly man that has spent his life writing the names of soldiers that have been blessed, thrown into battle, and died. Because of this Connor has a morbid outlook on life. He is always ready for the next battle's fallen and the stories of sadness and glory that come of it.
Most recently Kayn has been given a secret assignment from the Hall of Warriors. They have reason to believe that another war is brewing, and though the temple refuses to choose sides in such a war, they want Kayn to be the eye of Tempus as it begins to brew. His actions and decisions during this investigation have been blessed and backed by the temple. As a Knight of Tempus, he is to prepare for this war.
Having arrived at the Temple of Tempus, the posh halls are adorned with shields and weapons of Tempus. The marble stone floors are solid work of masons that were undisturbed by a coastal menace that has attacked Luskan quite often. An ancient blue dragon that attacked the city more than once and became the reason for so much of the reconstruction efforts by the five high captains and arcane brotherhood.
There was someone that wanted to meet with you in the adjacent room as you pass a font of holy water sprinkling in a large white marble basin. Sigmund was praying that day of fate when you arrived to meet him in his daily devotion to the Soldier of Ao. Raising his head, Sigmund looks to you and gives you a half worn smile. Within this room are several pews that are empty and unused. Because worship is over for the day, Sigmund is found in deep meditation.
"Hello brother in praise. I take it your travel here has been well? Come sit next to me and let's talk.There is problems among us again. The time for peace and quiet are over. The Arcane Brotherhood are growing in power and in the use of the arcane magic they possess. The Black Network seeks to undermine the High Captains rule and rage brews in the pirates blood. They seek to raid and pillage along the coast. You are tasked with being an envoy of peace during this time of trouble."
Lost but not Forgotten: Part VI (Axlimar)
Axlimar was born in a small fishing village along Lake Mulsantir. His father was an elven fisherman and his mother was a human shaman. She was tasked with keeping the peace between the region's spirits and the villagers. He grew learning much about spirits and Rashemi customs.
Unfortunately for him and the village, these lessons never really sunk in. He always wanted to see these "spirits" that his mother communicated with everyday. He found a map to a sacred cave that supposedly was the den of a great spirit, called a telthor wolf. He ventured in alone, to see if these spirits really do exist. To him, the cave seemed abandoned of any life. Strange pots, vases, and stacks of rocks laid bare throughout the den. Upset, Axlimar started destroying the pots and vases, thinking that this might summon any spirits. When no spirits came, he returned home, convinced that such spirits were a myth.
The next morning, Axlimar went out fishing with his father. The lake seemed barren, as they caught nothing. Returning to the village, they found a massacre. Dozens of villagers laid scattered about the village, massacred and mutilated by claw marks and bites. Horrified, him and his father took what they could and fled, heading east towards the capital city. While the telthor wolf didn't know who desecrated its den, it tracked the scent back to Axlimar's village, and slaughtered everyone in its path as a lesson.
For reasons unknown, Axlimar's father disappeared just a few days after they arrived, leaving him alone in a strange city. Axlimat believed the massacre to be his fault, due to destroying the items in the cave. Horrified by this thought, he did his best to suppress the memory, and decided to start a new life. He found a poster of a fantastical city named Luskan, where any person's dream could be realized, and the streets were practically paved in gold. Intrigued by such an amazing place, he secured passage to Luskan, and began a long journey from Mulsantir to Luskan.
The journey took nearly two years before he even arrived at Baldur's Gate. During this time, he studied about the Sword Coast, its customs, and language. Arriving in Baldur's Gate, he was ecstatic to finally be so close to the fabled city of Luskan. He boarded a ship, and patiently waited the three week voyage to Luskan.
The trip to Luskan by boat almost proved to be the death of him and those aboard the ship. A week into their journey, the ship came into the path of a terrible storm. Lightning surged around the ship for several hours, before a lightning bolt came into contact with the ship. Either by the fate of Talos himself or some other force, Axlimar was fated for that lightning bolt. The power would've killed any common mortal, and it certainly seemed to have killed Axlimar. The blast surged through Axlimar in a brilliant flash of light, leaving him unconscious on the deck.
During Axlimar's unconsciousness, something changed within himself. His hair changed color, turning from a raven's black to a storm's grey. Several days passed before Axlimar came to, and a changed man. Something ancient awoke within himself due to the lightning bolt, manifesting itself through him as an ability to bend the Weave to his own whim and speak the tongue of the elements.
He arrived in Luskan a few days later, still a little shellshocked from the lightning bolt and speaking in strange tongues. He also quickly learned that the streets of Luskan were not paved in gold. In fact, many of them weren't paved at all. And people like him were expected to pave them. Disappointed, but without money, Axlimar spent his first few months performing hard labor to make a living, all the while learning more about his new powers. Now, nearly a year later from first arriving in Luskan, he spends most of his time in bars and taverns, telling tall tales of home with his thick, Rashemi accent, performing minor magic tricks to amaze the crowds of those he meets.
Since the rebuilding effort of the Hosttower of the Arcane Brotherhood, each of the five archmages were in attendance this day along with a sortie of fellowship from its followers and fellow brothers of the arcane. You being an arcane brother in the brotherhood, you are at top the rebuilt tower located in the central chamber where Cashaan the Red has finished addressing you and the congregation. Your friend Vaelish the Brown and you are friends from way back. He is the reason you became an initiate of the Arcane Brotherhood.
But your magic wasn't that powerful. Well not at least not yet. After Cashaan had finished concluding the ritual that bound this floating tower together, the ritual was over and the fellowship was dismissed. Vaelish begins to talk to you, "Axlimar, my friend. Please take my Staff of the Magi to my room. I will be there to meet you to talk over your bloodline. I found something interesting that you might need to know that will help you in the future. Here please take my staff and place it in the onyx container.
Leaving at once, you take the Staff of the Magi to Vaelish room and find the door already ajar. Quickly dismissing it, Vaelish was becoming more absent minded as time passed through the years. But something happened when you began to place the Staff of the Magi away. A sentient voice called out to you. It was apparent that the staff was talking to you. Deciding to listen, you sit upon the bed and begin to study the staff and all of it's intricate runic symbols upon it. Somehow you have attuned the Staff of the Magi. Then you hear a scream.