firehawk2324
D&D Beyond Staff
Arisen from the Ashes
Location:

Elemental Plane of Fire

Join Date:

3/21/2017

Posts:

5,428

Member Details
Welcome to Play-by-Post!
Players
Please send a PM to the DM of a PbP thread when discussing joining games and related questions, rather than posting in the thread itself.

Post respectfully and follow the stated game guidelines of the DM.
Observe thread titles in relation to a game's status: Public, Private, or Recruiting.
Dungeon Masters
Maintain the proper tag on your post's title, as they can be used to search for games (you can change the tag by selecting EDIT THREAD from the TOOLS button near the top-right of the page):

PUBLIC (anyone can join at will)
PRIVATE (no new members)
RECRUITING (recruiting for new members)

Your games will mostly remain without moderation. Please report questionable posts or contact a moderator if support/cleanup is needed. We are happy to assist when asked.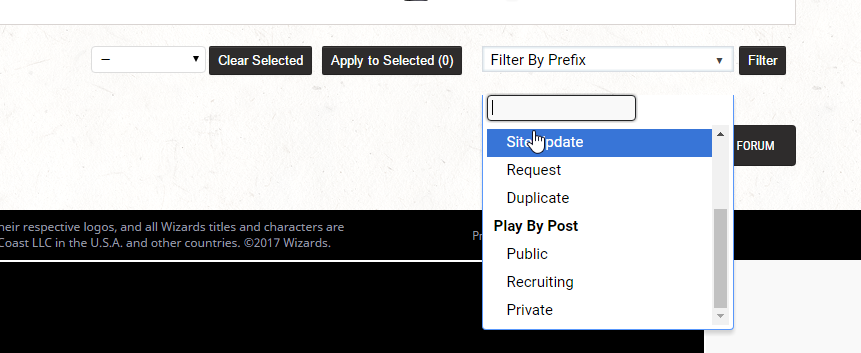 Enjoy your games and have fun!
FAQ
What is Play-by-Post?
Play-by-Post (or PbP) is a campaign that takes place completely on these forums. The DM will post an initial thread, usually with the campaign description, and state what they are looking for in regards of players. Then the entire campaign takes place right in the thread. Everything your character does and says will be typed out in a reply, and you can even roll dice in your reply.


How do I find PbP recruitment threads?
You can easily filter your search for any recruitment threads. At the bottom of the PbP forum is a filter by prefix option. Just choose recruitment, hit the filter button, and you will only see threads that are recruiting. You can also navigate right to the recruitment filter.


Everything here is 5th edition, right?
D&D Beyond is a 5th edition toolset, so mostly everything on these forums will center around 5th edition. There may be a few exceptions in the PbP forums, but for the most part, 5th edition is what you'll find.


Is knowledge of 5th edition required?
While D&D Beyond focuses on 5th edition, these types of requirements are usually left up to the DM. If you have questions regarding a specific campaign, you should PM the DM of that campaign.


How does the dice roller work?
There's a thread here that explains how to use the dice roller.


How do I keep track of my character sheet?
Each DM will have their own requirements regarding this, but the simplest way to do so would be using the character generator to create your character. While you can't yet share this type of character sheet yet, that functionality will be added later.


What do the tags mean?
Every thread made on the PbP forum is required to have a tag. These tags are Recruiting, Private, and Public.


Can I just join in any campaign?
Most campaigns will post a Public recruitment thread, prior to commencing. Once players are confirmed, a campaign thread will be created and marked as Private. If you are too late and miss a spot in that campaign, or are declined, please don't post in campaigns that you have not been accepted to join. You can always send a private message to the DM of that PbP to ask if you can join late, or be on a waiting list, in case someone drops out. Please accept their response.


Can I play something other than D&D on this forum?
All PbP on the D&D Beyond forums should use the Dungeons & Dragons 5th edition rules, however you are free to use any campaign setting and homebrew that you like.


I have a question that isn't covered in this FAQ!
Please post below and one of our moderator team will assist and edit this FAQ as needed.


How do the tooltips/links to spells etc work?


D&D Beyond offers the ability to link certain aspects on the forum in mouse-over triggered tooltips, such as magic items, monsters or combat actions - examples being Adult Black Dragon and dash. To create tooltips in this way as these, use the appropriate [tag][/tag] around the desired subject.

Example: [ magicitem]sunblade[/ magicitem] (Without spaces within the [ ] brackets.)

Use the following within the [ ][/ ] bracket system:
action - an action taken in combat - e.g. dodge, search and ready
condition - a condition afflicted upon a creature - e.g. restrained, poisoned and prone
item - a mundane item - e.g. torch, trident and backpack
magicItem - a magical item - e.g. Bag of Holding, Dust of Disappearance and Demon Armor
monster - a creature you can encounter - e.g. Banshee, Bandit and Unicorn
sense - a type of extra sense, whether magical or natural - e.g. darkvision, tremorsense and truesight
skill - this is used for professions - e.g. Persuasion, Stealth
spell - a magical spell - e.g. Mage Hand, Magic Missile and Abi-Dalzim's Horrid Wilting
wprop - a property of a weapon - e.g. finesse, versatile and heavy
If you have any questions, please feel free to contact these moderators: